Francesco NOCERA
Associate Professor of Building physics and building energy systems [ING-IND/11]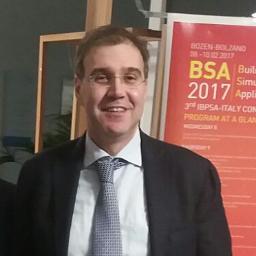 Office:
Catania, Bulding 3 , Floor 4 , Room 12
Email:
francesco.nocera@unict.it
fnocera@unict.it
Phone:
+39.095.7382366
Fax:
.+39.095.7387923
Web Site:
scholar.google.it/citations?user=wpM_ZyIAAAAJ
Office Hours:
Tuesday from 09:00 to 10:00
Location:
In conseguenza delle norme anti Covid vigenti, il ricevimento degli studenti si svolgerà su piattaforma Teams (codice Team: q4k8wf0



Civil Engineering, 1997 University of Catania (UdC) Italy. Ph.D. in Applied Physics, 2002, University of Palermo Italy.
Since 2018, he is an Associate Professor of Building Physics and Building Energy Systems at UdC.
Key Analysis Expert for European Poly-technical University (Bulgaria).
Since 2010 Scientific responsible of the Computer Lab at Special Didactic Structures established in decentralized seats of Siracusa (Architecture) http://www.architettura.unict.it/laboratori/laboratorio-di-informatica
Since 2020, Scientific responsible of the Energetic Sustainability and Environmental Control laboratory at Special Didactic Structures established in decentralized seats of Siracusa (Architecture) http://www.architettura.unict.it/laboratori/seca-laboratorio-di-sostenibilita-energetica-ed-il-controllo-ambientale
Honorary Member of National Association for the Thermal and Acoustic Insulation (ANIT).
Member of " Evaluation and Mitigation of Urban and Territorial Risks" Ph.D. Course (UdC).
Rector's Delegate for the UN Sustainable Development Solutions Network (SDSN).
Best Research Paper Award in KES-SEB (2014) conference.
Member of the Editorial Board of International Journal: Sustainability, Journal of Daylighting, Energies, Highlights of Sustainability, Sci
Responsible for Erasmus + Agreement with the University of Valladolid (Spain)
Member of IEA Task 59: Renovating Historic Buildings Towards Zero Energy. https://task59.iea-shc.org/university-of-catania
Member of interdepartmental Research Centers: Center of Excellence for the Acceleration of HArm Reduction (CoEHAR), L'Ora del Mare (OdM), Community Engagement (CUrE).
Expert Reviewer for the IPCC (Intergovernmental Panel on Climate Change) Special Report on Climate Change and Land (SRCCL).
UNESCO short term expert of Natural Sciences Roster.
Expert reviewer H2020-MSCA-IF-2019.
Member of Horizon 2020 Expert Group on Economic and Societal Impact of Research and Innovation. European Commission Member of Expert Group on Ambient Air Quality, Energy Performance of Building Directive and Energy Efficiency Directive.
Responsible for the General Agreement with CEU Cardenal Herrera University (Spain), Faculty of Urban Construction and Environmental Engineering of Chongqing University (Cina), Applied Science and Arts of Southern Switzerland University (SUPSI)
Responsible for International Students Training Internship with Applied Science and Arts of Southern Switzerland University (SUPSI) on Building Integrated Photovoltaics (BiPV).
Visiting Professor at Valladolid University and CEU University
Expert Member of CIE (International Commission on Illumination) and auditor of UNI/CT 023/GL 02 Lighting of Work Places and schools
Member of IEA PED Annex 83: Positive Energy Districts
Expert Member of IEC (International Electrotechnical Commission)
Speaker in international conferences (25). Co-author of 116 scientific papers on Scopus Database: International journals (57), conference proceedings (45) and chapter of books (14), about: confined environments, recording and processing of environmental data, buildings energy analysis, environmental thermo-fluid dynamics, natural and artificial lighting, environmental and building acoustics, problems in environmental comfort and conservation of cultural assets, active and passive strategies for environmental monitoring and air-conditioning systems, indoor and outdoor comfort (UHI,UHII etc), solar energy, heat transfer, energy saving, renewable energy.
ACADEMIC YEAR 2022/2023
---
ACADEMIC YEAR 2021/2022
---
ACADEMIC YEAR 2020/2021
DEPARTMENT OF CIVIL ENGINEERING AND ARCHITECTURE
Master's Degree in Chemical Engineering for Industrial Sustainability - 1 Year
SUSTAINABLE ENERGY SYSTEMS


---
ACADEMIC YEAR 2019/2020
---
ACADEMIC YEAR 2018/2019
---
ACADEMIC YEAR 2017/2018
---
ACADEMIC YEAR 2016/2017
---
ACADEMIC YEAR 2015/2016
The main interest topics are:
basic thermodynamics,
thermo-fluid dynamics,
heat transmission,
lighting, acoustics,
rational use of energy,
use of renewable energy sources
energy service management in buildings and urban landscapes.
I am particularly interested in experimental studies of:
Indoor Air Quality (IAQ)
Indoor and Outdoor Comfort (UHI, etc)
Zero Energy Buildings
Passive House
Renovating Historic Buildings Towards Zero Energy
Buildings Energy Analysis
Environmental Thermo-fluid dynamics
Natural and Artificial lighting
Environmental and Building acoustics
Air Pollution